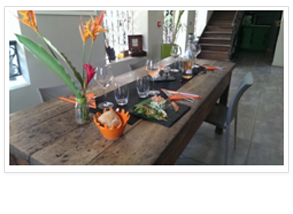 Monday to Friday : 11:30 to 14:00

Monday to Saturday : 19:30 to 22:00 (*closed on Sunday)

Inside or Outside terrace
(swimming pool & garden side)
Reservation N°:

05 94 25 75 70

Organization of lunch, dinner or cocktail
on request
Le K Restaurant

Tasty & Fresh Cuisine

Continental Breakfast Buffet is served either in the indoor lounge of the villa or on the outdoor terrace. Everyday from 7:00 to 9:00 / weekends from 8:00 to 10:00. Our hostess will be pleased to serve you a large choice of fresh & homemade products (French pancake, eggs & bacon, fresh fruits salad…).
For lunch, the Chef proposes a set-menu of grilled fresh food (meet & fish from the local market). Everyday a new tasty set-menu to discover, starting from 19€ (starter/main course or main course/dessert).
At dinner, come and taste our Italian Gourmet Menu, made by the Chef and inspired by local market products. All our dishes are homemade!
On request, we organize Business lunches/ dinners or Cocktails (20 to 100 pers.), in an elegant & modern atmosphere (the lounge space of the villa, on terrace/garden, next to the swimming pool)